Fonderie Peri  srl  was established in 1978 building,  in years an avantgarde structure  in the casting field for lightalloys  made  with  gravity  casting.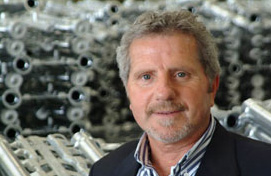 As so from the first castings made and destined to sectors of polish machines and faucetry we went on more complex works, in terms of both product typology and volume dimension.
Since 1982 we faced mainly towards Auto/Motor sectors, through PAIOLI MECCANICA S.p.A, with which there's been a strong collaboration, supplying their entire production, providing prestigious brands as Aprilia, Malaguti, MBK, Yamaha, Benelli, Betamotor, K.T.M. For almost 20 years our company developed and specialized the most in this sector, contributing in a significant way to products improvement and to the optimization of the making and delivery process. In this period there has been a major company growing, doubling covered surface and investing automating the main processes. Added value of Fonderie Peri s.r.l. is aptitude to collaborate at 360 degrees with the client, investing and optimizing to maximum production diminishing costs. Another strength of Fonderie Peri s.r.l. : high performances and contained costs
We diversified production and, even though Auto/Motor sector is a flagship of our reality, we currently have also important collaborations in the gym equipment field where we actually supply the prestigious brand TECHNOGYM.
In 2006 starts collaboration with Tenneco-Marzocchi a brand whose core business is the making of professional motorcycle forks, sector in which the company has been World Leader for over 50 years. Thanks to this important partnership, technology and production processes evolved to the point of becoming of excellent level, so much that service then extended to other brands of international fame as BMW, DUCATI, MV AGUSTA.
After a vertical production development in qualitative and quantitative terms, we didn't cannot proceeding with a further stride forward and dedicate part of the plant to frame components, products for which BMW relies on our Know How to this point consolidated.
We make engine parts like turbo sleeves, oil pans and water pumps, for world fame realities.
Our strength, what makes us competitive at an international level, is surely capacity to be organized for important quantitatives, combining efficiency strength to our Know How in the quality castings field and into development of accurate finishes.